You likely already know how important maintaining your Google My Business profile is for educating customers and finalizing conversions. A fully optimized listing increases the likelihood of a client choosing your restoration services company over a competitor whose information is incomplete. An important component of this is the Google Q&A. We're taking a look at the ins and outs of your Google Q&A and how you can put this section to work for your restoration company.
What is Google Q&A?
The Google Q&A section provides a space for people searching the Internet to ask a question about a particular business. The scope of these questions often ranges from parking availability to special deals, accommodations, and other aspects of a company. Examples might include:
Are you lICRC certified?

Do you do water damage repairs?

Do you work with insurance companies?

Do you do contents restoration?

Can I pay my bill online?
Questions in the Google Q&A are publicly available, and sometimes show at the top of your Google My Business listing. A strong questions and answers section bolsters your business, helping pushing it up in search results. This is how to locate your Q&A section:
Benefits of Curating Your Google Q&A Section
You might be wondering if taking the time out to answer your Google Q&A is worth the effort. We can assure you it is. Consider these benefits of curating your Q&A section:
Increase Search Appearance – Answered questions help the performance of your listing, pushing it higher in the search results.
Attract Potential Clients – Let's face it, the restoration process is confusing in itself. A thorough Q&A section eliminates any uncertainty for any possible clients.
Save Yourself Time – Rather than having to repeat yourself each time a customer calls, the Q&A offers up important frequent inquiries in a visible area.
Ensure Accuracy – Public information is not always the most reliable. As the owner or operator of your company, you are the ultimate authority on your business. The Q&A allows you to get the information correct.
How to Make Google Q&A Work for You
Instead of waiting around for potential clients to pose questions, you can take matters into your own hands. A great way to give customers a good impression is to ask these questions yourself on your own GMB listing. Because these are the questions a customer will use to help them decide whether or not to work with your company, a strong, well-maintained Google Q&A is critical. Follow these steps to ask and answer your own questions:
After clicking "Ask a Question," you will be taken to this screen. Enter your question. Hit Post.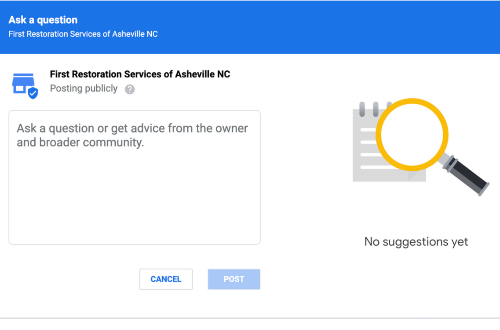 Return to your GMB listing. Click on the question. Hit Answer. Enter the response. Hit Post. That's it!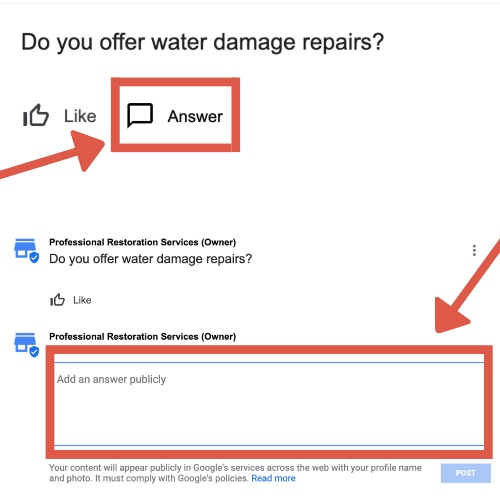 Google Q&A Tips for Restoration Companies
Now that you understand the importance of the Google Q&A section, it's time to get yours optimized. Use these tips:
Put Yourself In Your Customers' Shoes
As you are seeding your Google Q&A section, try to think of your business at the most basic levels. What are commonly asked inquiries you receive? What areas can you shed light on to provide customers with the most accurate, comprehensive information.
Answer All Questions
Of course, you should answer the questions you pose. Don't forget to answer any new questions that come in too though, as unanswered inquiries can negatively impact your reputation and company. You run the risk of an uneducated source answering the question incorrectly. Answered questions show an investment and engagement with your customers.
Monitor Questions
You should periodically check for them. Download the Google Maps app, log in with your GMB account, and turn on alerts for Google Q&A.
Be Clear & Concise
Don't keep your customers on pins and needles as they read long blocks of text. Instead, you should provide a short, clear answer that cuts straight to the chase. Word your responses in easy-to-understand language and structure.
Make Corrections
If your Google Q&A section has already been populated with inaccurate information, it is in your best interest to politely and professionally clear up any misconceptions.
Report Spam & Abuse
While you strive to do your best, sometimes you may encounter unhappy customers. They make take the opportunity to defame your business by way of the Google Q&A section. It is not uncommon to see things like: "Do you even teach your employees how to answer the phone?" and other inquiries of this nature from disgruntled clients, or even employees. You can also report answers that violate guidelines.
Make the Most of Google Q&A
 
Answering your Google Q&A is a simple way to set yourself up for success. Take a little time to compile the most frequently asked questions and answer them, in addition to setting aside a few moments each week to monitor new ones.