Client Spotlight - ServicesMaster of the Rogue Valley
When considering to invest in online marketing to generate leads and brand awareness, a restoration company usually has different reasons from one to the next. However, one common reason I hear over and over again is to diversify their sales and become less reliant on TPAs. Increasing sales is always a common goal, but let's face it, $10,000 from TPAs is worth less than $10,000 from online because after the TPA fees and price cuts you're not making as much. The internet doesn't take a cut of your sales and doesn't require you to work off a different price list either.
A great example of a company recognizing this is ServiceMaster of the Rogue Valley out of Medford, OR. Tyson Holman (project manager) and Barry Katz (sales manager) approached RDM in mid-2018 about increasing their internet sales to the next level. For them, becoming less reliant on TPA work was important and they saw the internet as a way to access a different revenue stream. As you can imagine, being a ServiceMaster franchise, they receive a good amount of work from programs. But even for them, the work wasn't great, and their margins were suffering. So Barry and Tyson signed (2018) on with RDM and haven't left (heading into 2020). They have seen YOY increases in internet sales which now account for 13.7% of their total sales.
Important Stats (provided by ServiceMaster of the Rogue)
Internet Sales - More than $400,000 in 2019
Internet Accounts for 13.7% of the total sales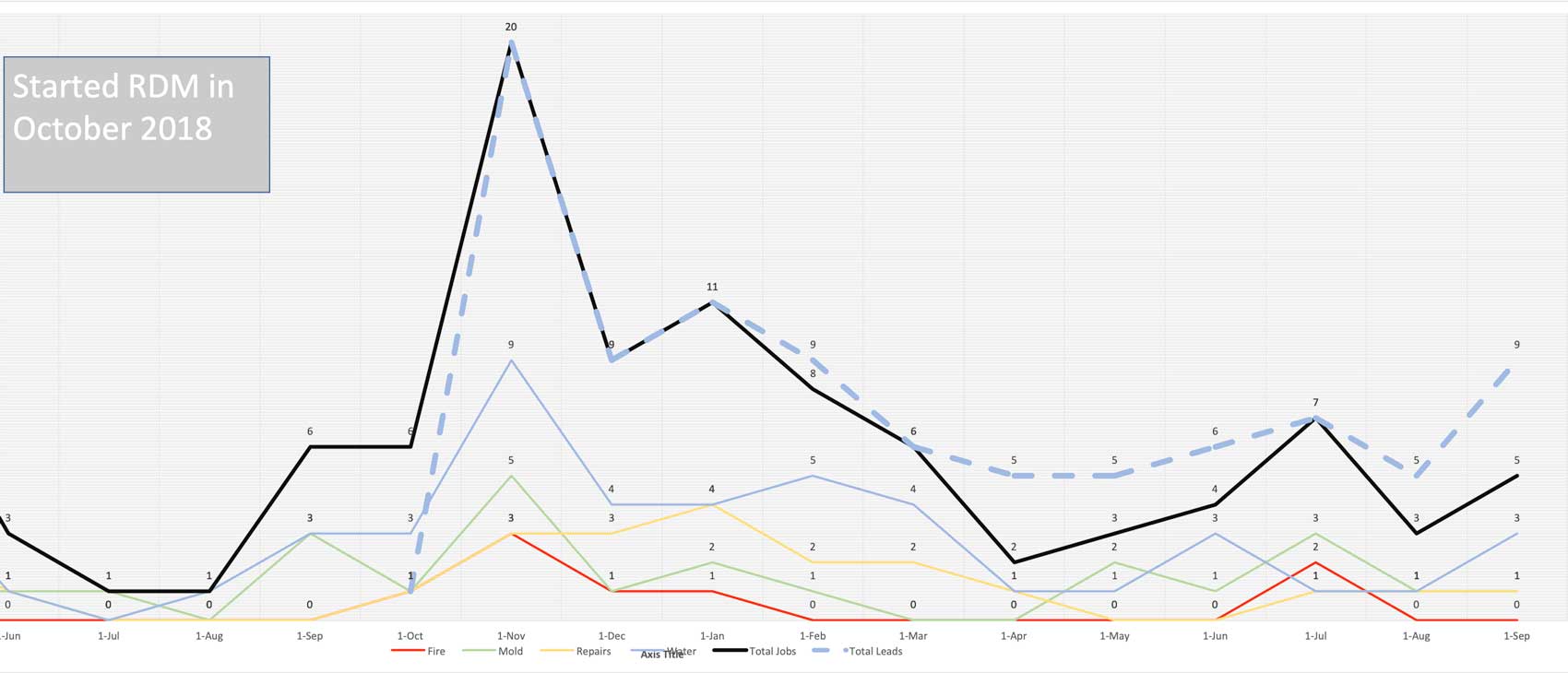 Q&A
RDM: Why is it important for ServiceMaster to become less reliant on TPA work?
Tyson: TPAs are causing a number of problems in the industry. They limit the contractor's ability to create pricing that meets the financial needs of their business, they promote an over-reliance on insurance for work instead of more natural leads. The worst of all is that they promote an ideology that we work for the insurance company rather than the customer. We at ServiceMaster of Medford wanted to move away from TPA's for these reasons as well as a desire to diversify our lead sources.
RDM: It's not only online marketing you guys invest in?
Tyson: No, we are engaged in multiple marketing efforts. Our marketing manager Barry has built phenomenal relationships with agents over the past 7 years that have been essential to building our business and provide consistent lead sources. Our project managers and estimators have focused on developing similar relationships with adjusters which has also helped get leads directly from adjusters. Currently, we are looking at ways we could build a better relationship with our local fire departments.
RDM: Why do you think some companies have trouble investing in online marketing, often times even when they see the success of a company like yours?
Tyson: Internet marketing is really difficult to understand and can be overwhelming for most people, which often discourages people from really using it. In addition to this many companies do it wrong and end up wasting time and money. This I why we hired you [RDM] to manage our internet marketing. We wanted a skilled marketer with restoration knowledge to manage our internet marketing. I am happy we did this because I have seen huge rise in people called us because they found us on the internet.